Vestry
St. John's Vestry, the lay leadership of our church, consists of nine members who serve three year terms. The officers are Senior Warden, Junior Warden, Treasurer, Assistant Treasurer, and Registrar.
Clergy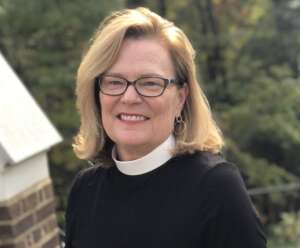 Rev. Judy Webb Davis, Interim Rector
The Rev Judy Webb Davis joined the St. John's family as Interim Rector in June of 2023. Judy is a native of Charlotte, North Carolina and a "cradle" Episcopalian. Prior to her ordination to the priesthood in 2014, Judy and her husband Doug were long time members of St. Stephen's church in Richmond where she served in many ministries, with a particular love of healing prayer ministry and contemplative prayer and where she began her discernment to ordained ministry. She graduated from Virginia Theological Seminary with her M.Div. and has completed post graduate work in homiletics and in interim ministry training. Judy understands her call to intentional interim ministry as an extension of her call to healing and reconciliation work.
Judy and Doug divide their time between their homes in Richmond and on the Northern Neck and are often joined by their adult children, Grace and husband Ted and Thomas and husband Ryan.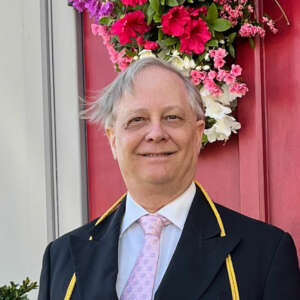 Dennis L. Tucker, Organist
Dennis Tucker holds two masters degrees in music from Southern Methodist University where he studied conducting with Dr. Lloyd Pfautsch and Jane Marshall. Undergraduate work was completed at Stetson University in DeLand, Florida, where he graduated magna cum laude , with a major in church music. Organ studies were with Paul Jenkins.
While at Southern Methodist, Mr. Tucker directed the University Choir, the Mustang Chorale, and the Choral Union, along with other student conductors. He graduated with honors in 1986.
Dennis Tucker has over thirty years of experience as a performer, including jobs in churches and as a free lance musician. An accomplished organist, pianist, and choral conductor, he has performed in New York, Texas, Michigan, New Jersey, Florida, Missouri, and Virginia. His repertoire has embraced an eclectic mix, showcasing both the passion and the intellectual side of musical compositions. He has directed the Utrecht Jubilate of Georg Frederic Handel, and the Requiem s of Gabriel Faure and John Rutter, the latter with an orchestra featuring members of the Detroit Symphony Orchestra.
Mr. Tucker has served as pianist in the band for Don't Bother Me I Can't Cope , as performed at the Gusman Concert Hal in Miami, Florida, as well as for Chicago both presented as part of the Governor's Program at Miami Dade Community College (now Miami Dade College).
He has appeared on local television in Miami as a piano accompanist and was heard as an organ perform er over WFBE FM in Flint, Michigan.
His article, The Choral Works of Edward Green appeared in The American Organist in December 2000. His review of The Cambridge Companion to Duke Ellington by Edward Green was published in the April 2016, edition of the Choral Directors Journal.
The faculties of Spring Arbor College (Flint Center) and St. Louis Community College have included Dennis Tucker among their roster of instructors.
Community service has been an interest. Tucker was on the steering committee which founded an independent business alliance in St. Louis. In 1978 he was named one of the Outstanding Young Men of America by the United States Jaycees. He is currently involved in the planning for a musical support organization in the Northern Neck of Virginia.
He currently serves as organist at St. John's Episcopal Church in Tappahannock, Virginia.